Elan E3 "Škrlatica"
LAYOUT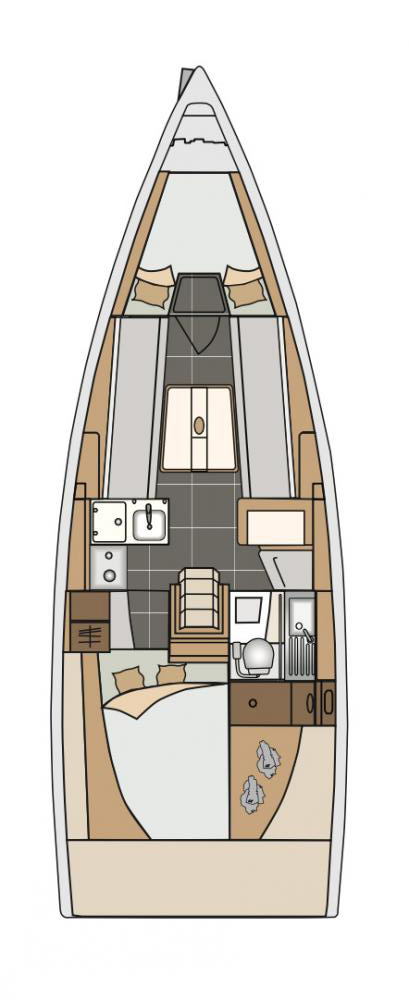 TECHNICAL
Main sail
full batten 2022
Steering type
2 Steering Wheels
EQUIPMENT
Navigation
Autopilot
Compass
Depthsounder
GPS chart plotter - cockpit
Navigation (Nautical) charts and nautical guide
Navigation set
Wind instrument / Anemometer
Safety
First aid kit
Life jackets
Safety equipment
VHF radio
Yacht electrics
Deck
Anchor with chain
Bimini top
Cockpit cushions
Cockpit table
Cockpit/stern, outside shower
Dinghy
Electric anchor windlass
Spray hood
Galley
Hot water
Kitchen utensils
Oven
Refrigerator
Entertainment
Other
Black Water Tank
Set of tools
reviews
Saturday, 03 September 2016
Fantastic week of sailing! TOBIAS NOORDHOEK
Saturday, 08 October 2016
Very good sport yacht, but no "traveler". I`ll like to book the boat again. OLEG MINTS
Saturday, 03 June 2017
[img]http://i.imgur.com/vxqVF0M.jpg[/img] Hans Werner
Saturday, 27 May 2017
Very nice boat. BRIGITTE BACH
Saturday, 24 June 2017
I will come again. The tehnical support is very good, I reccomend Yacht4You, good survice. ALBERTO GIOVANNINI
Saturday, 29 July 2017
Great yacht, well equipped. Good suppord. Thank you! FEDERICO PRINI
Saturday, 29 July 2017
Great yacht, well equipped. Good support. Thank you! FEDERICO PRINI
Saturday, 09 June 2018
Perfect! FRANZ POSTER
Saturday, 08 September 2018
Best charter boat we ever had! BEN CORDES
Saturday, 03 August 2019
Great people! BETTLER Philippe
Saturday, 22 August 2020
Very best. Ben Cordes
Wednesday, 27 July 2022
Life lines were too slack for my taste, I did't have a good feeling about those. Otherwise great.